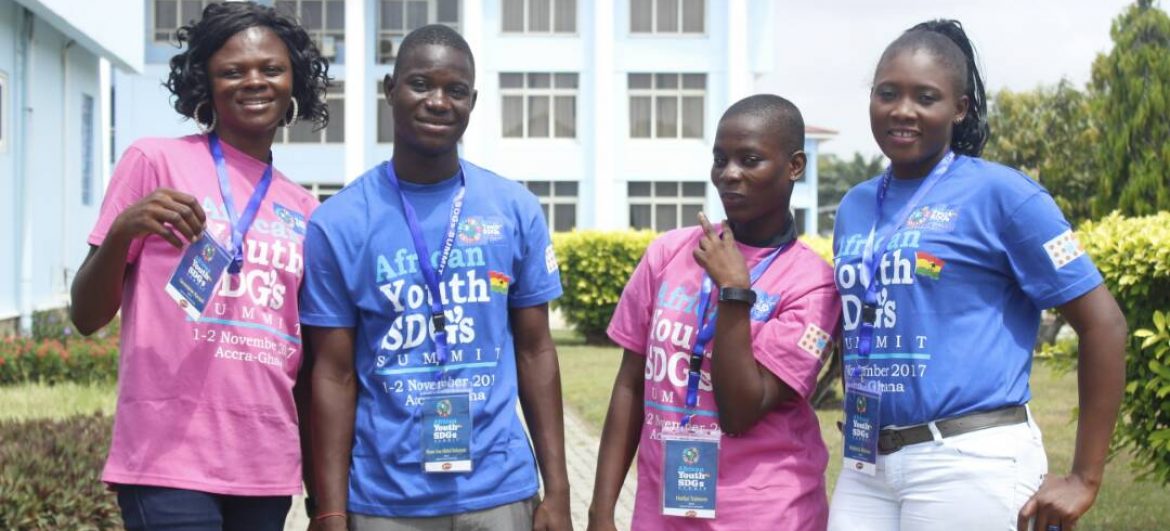 Ensuring Inclusivity in the African Youth SDGs Dialogues
Youth Advocates Ghana, the Conveners of the African Youth Sustainable Development Goals (SDGs), in collaboration with the Ministry of Youth and Sports (Ghana), the National Youth Authority (Ghana) and the African Monitor (South Africa), with support from the United Nations Development Program (UNDP) organised the maiden African Youth SDG Summit in Accra, Ghana on 1st – 2nd November 2017.
The goal of the summit was to provide an open and inclusive platform for 400 young people in Africa, SDG Achievers, African Governments, development partners and the private sector to dialogue on developing innovative ways to address pertinent issues affecting youth, such as poverty, unemployment, community conflict and climate change in the African sub-region.
This inclusivity was further enhanced through Hope for Future Generation's (HFFG) support to three (3) young people from the Northern Region who are peer educators under the Get Up Speak Out (GUSO) project. The youth include Hadijatu Imoro, a young person with a hearing disability and a student of the Savelugu School for the Deaf; Melody Mahama, an out-of-school young person from the Vitting community; and Sham-Una Abdul Rahaman, an out-of-school peer educator from Gushegu. They participated actively in the discussions and were excited that their voices were part of the final outcome document of the summit which will be a major tool for advocacy for African youth. Hadijatu, accompanied by her teacher and interpreter, Genevieve Karaah, was excited to better understand what the Sustainable Development Goals were and her role in achieving them as a young person living with a disability.
Genevieve explained Hadijatu's excitement in sign language:
I will make sure my school mates benefit from the knowledge I gained here. 
The summit is envisaged to be a bi-annual event aimed at amplifying the voices of African youth, showcasing innovations, and creating a community of purpose for the co-generation of ideas and awareness on the SDGs and offering policy advice to increase youth participation in the SDGs implementation, monitoring and evaluation process.
+About GUSO: The Get Up Speak Out (GUSO) project is the flagship project of the Ghana SRHR Alliance (of which HFFG is a member). The project empowers young people, especially girls and young women, to realise their sexual and reproductive health and rights (SRHR) through the capacity building of young people, increasing their use of SRHR information and education as well as access to youth-friendly SRHR services to improve their socio-cultural and legal environment. The project is being implemented  in some communities in the Northern Region, through a positive rights-based approach and gender transformative programming.
November 2017