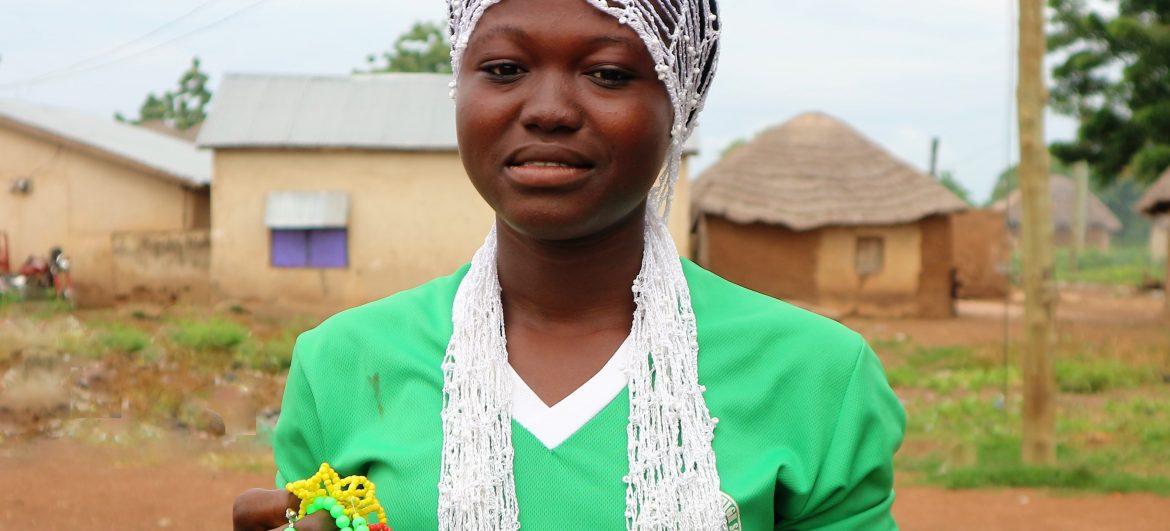 GUSO Star Camp beneficiaries shine
Under the Get Up, Speak Out" (GUSO) project, 110 young persons selected from 6 districts in the Northern and Upper East Regions of Ghana in 2017 and 2018 participated in a 4-day camp meeting organized by HFFG. The camp meeting which was dubbed Star Camp sought to equip these people with quality Sexual and Reproductive Health and Rights (SRHR) information through Comprehensive Sexual Education (CSE) to enable them to make informed choices.
The Star camp also served as a mentorship and skill training opportunity for the participants, as they were equipped with business skills training to empower them economically. They were trained in barbering, bead-making, and pastry-making. Months after the training, some of the beneficiaries are generating income for themselves from the skills they acquired and are also offering comprehensive sexual education in their communities.
Alhasan Hafsa, an 18-year old girl from Pagazaa, a small community in the Tamale sub-metro took part in the camping. From the skills and knowledge gained, she makes and sells bead-accessories and is also having an impact on her peers.
"The skill training I received under the GUSO Project is helping me generate income. The Comprehensive Sexuality Education has also placed me in a position where I am able to stand up for my SRHR and also educate others. I have become a role model for many girls in my community. They come to me with issues relating to teenage pregnancy, unsafe abortion, menstruation and other health issues. I am glad I am able to help them make informed choices," she said.
Hafsa is not the only beneficiary making an impact.  Abdulai Mohamed, 23, male and his three other friends (all from Pagazaa) also acquired barbering skills at the camp. They were provided with startup tools. The four GUSO beneficiaries have jointly opened a barbering salon in their community to provide barbering services to community members and beyond.
Mohamed (Second From Left) and his friends

Mohamed said:  "At first the young people in my village used to have unkempt hairs due to the unavailability of professional barbers. That changed after the Star Camp training. Together with my friends, we offer professional barbering services to members of our community. Our salon also serves as a safe haven for the boys who come here to receive education and information on SRHR. As we shave them, we share with them what we learnt at the camp and how to practice safe sex."
The GUSO project is a five (5) year intervention that seeks to ensure that all young people fully enjoy their sexual and reproductive health and rights, in productive, equal and healthy societies. The project being implemented by the Ghana Sexual and Reproductive Health and Rights (SRHR) Alliance, of which HFFG is a member is sponsored by the Dutch Ministry of Foreign Affairs and Simavi.
From January to June 2019, HFFG under the GUSO project reached a total of 7,940 young people, including persons with disability with comprehensive SRHR information as against a target of 1,819. These young people are now well informed to make the right choices.
HFFG under the project is also breaking barriers to SRHR education and service by engaging community elders, faith-based organizations and other stakeholders in the project implementation areas. The Chief of Pagazaa, Sandu Alhansan, admits the project is having a positive impact on young people in his community and encourages all stakeholders to support the GUSO project to create more impact.
 "Teenage pregnancy used to be very common in this community. Open discussions on sex and reproductive health were a preserve for adults, but this has changed since the introduction of the GUSO project in my community. We have not recorded any teenage pregnancy this year. The project has built the confidence of the young men and women in this community," the Chief of Pagazaa testified.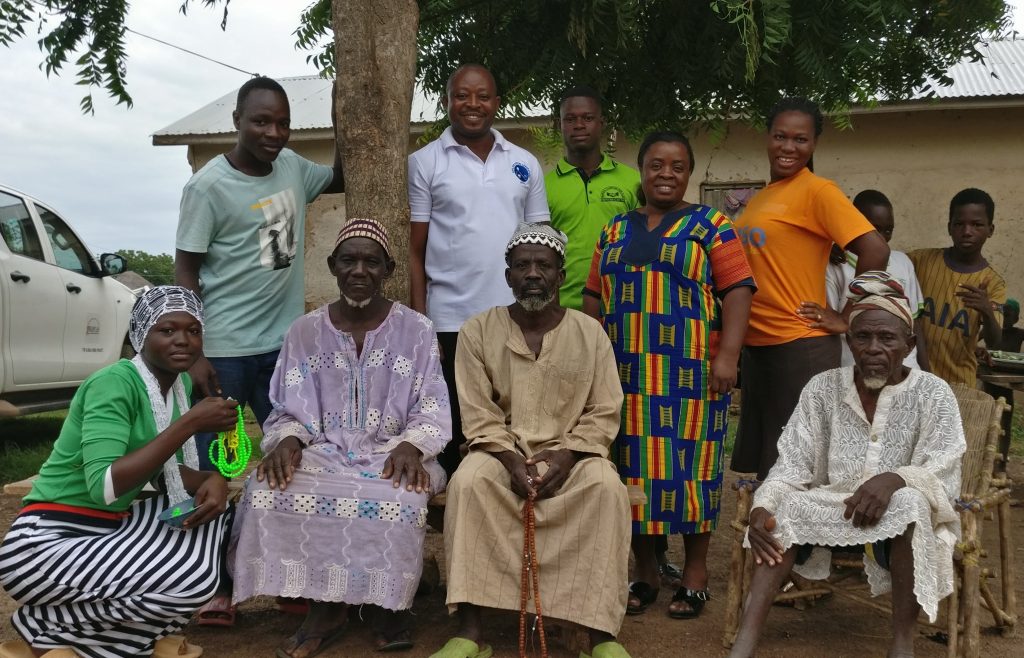 Mohamed, Hafsa, and community leaders pose with a team from HFFG