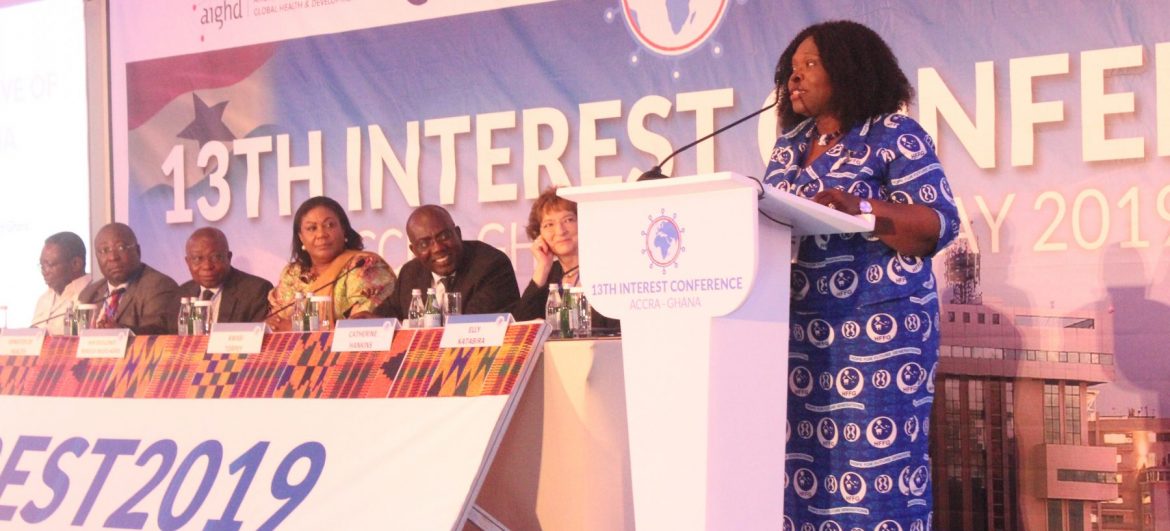 HFFG at the 13th Interest Conference In Accra
The 13th International Conference on HIV Treatment, Pathogenesis, and Prevention Research (INTEREST) conference was held in Accra, Ghana from May 14 to 17, 2019, bringing together a record 657 participants from 42 countries, mainly in Africa, of whom 47 per cent were women.
The aim of the conference among other things was to provide cutting-edge knowledge in the fields of treatment, pathogenesis, and prevention of HIV and related infections and chronic conditions. It was to also offer a platform for the exchange of ideas on how to provide and support HIV testing services and clinical care to adults, adolescents, and children living with HIV in Africa to achieve 90-90-90 goals.
Presenting a community perspective on the HIV response in Ghana,  the Executive Director of Hope for
Future Generations and President of the Non-State Actors for Health Ghana, Mrs Cecilia Senoo highlighted the important role played by civil society organizations since the beginning of the HIV epidemic.
She noted that communities continue to play essential roles in advocacy, delivering services that reach everyone
in need, tackling HIV- and TB-related discrimination, monitoring programs and providing feedback, developing the research agenda, ensuring the engagement of key populations, and contributing to the sustainability of public health and other services.
Mrs Cecilia Senoo described several current trends in Ghana as "worrying and unacceptable", including slow progress against the 90-90-90 targets, lack of progress in reducing the number of new infections and AIDS deaths, high numbers of missing TB cases, the 7 per cent rate of mother-to-child HIV transmission in the country, failure to meet Global Fund and PEPFAR co-financing obligations, and slow progress in establishing a National AIDS Fund to increase domestic financing commitments.
She emphasized that the goals of ending the AIDS and TB epidemics by 2030 depend on transformed health
systems that include significantly scaled-up community responses accompanied by the funding and sustained support needed to make these responses possible.